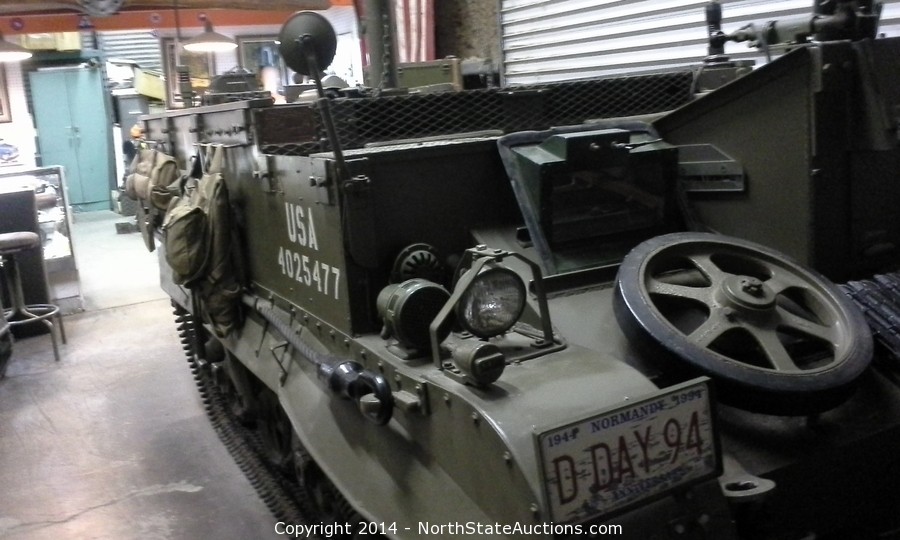 Item #C002MV:
1944 Ford T16 Universal Carrier, WW2 US Military Armored Personnel Vehicle
Sold
Item Price:
$60,000.00
Item has been viewed 16,022 times.

1944 FORD T16 UNIVERSAL CARRIER WW2 US MILITARY TRACKED ARMORED PERSONNEL VEH.
RESTORED TO MUSEUM QUALITY CONDITION BY A NORTHERN CALIFORNIA RESTORATION ARTIST AND ENTHUSIAST, THIS RARE EXAMPLE OF REVERSE WW2 LEND-LEASE ENGLISH DESIGN/ AMERICAN BUILT VEHICLE WAS DRIVEN INTO THE MILITARY MUSEUM OF BUTTE COUNTY 10 YEARS AGO COVERED WITH VINTAGE PERIOD CANVAS ACCESSORIES AND A .30 CAL REPRODUCTION MACHINE GUN. ALSO INCLUDED WERE THE PERIOD COMMUNICATION RADIOS FOR THIS VEHICLE: GRR5 MULTI BAND RECEIVER, THE BC-1035 TRANSCEIVER WITH APPROPRIATE MATCHING ANTENNA SYSTEMS, AND TACTICAL BC6-11 HANDI TALKIE MAN-PACK TRANSCEIVER.
Please contact us for more details or if you would like to schedule to view the collection.
---