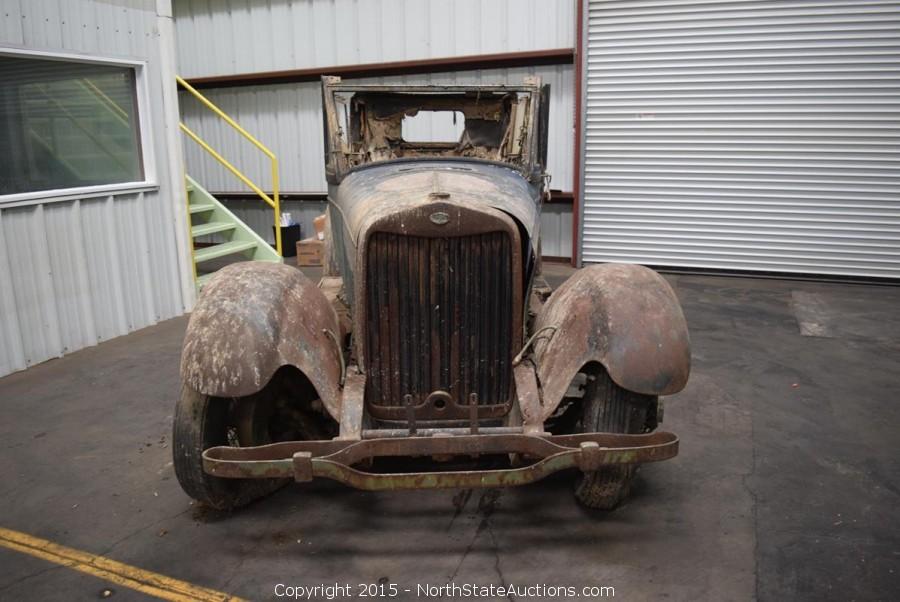 Lot #7005:
1928 Lincoln Sedan 7 Passenger Type 147A V8 "Isabell" Body by Murray
Bidding is

closed

.
High Bid:
$900.00
NA
Bidding Ended:
Wed, Oct 16 10:05:00 am PT
High Bidder:
Corvette5279
Bid Increment:
$10.00
Starting Bid:
$5.00
Item Location:

4801 Feather River Blvd

,

Oroville

,

CA

Item has been viewed 798 times.

1928 possibly 1929 Lincoln 7 passenger sedan.  The thing that strikes me about this car is the vivid cobalt blue color that is still so bright after 90 years.  I would love to see this beauty restored and repainted to this original color it would be so spectacular!  Again, an original car that is mostly compete.  The doors appear to all be  inside of the car, as well as some other parts. 
Take a peak at those uber awesome wire spooked wheels.  This car just begs to be restored and finished to all of her previous glory. 
car # 48674
Product # 48174
Body # 10-1761
Type 147A
V8 
Murray/Lincoln body
---
| | | |
| --- | --- | --- |
| Bid Date | Bid Amount | Bidder |
| Oct 16, 2019 - 10:07:30 AM | $900.00 | iCorvette5279 |
| Oct 16, 2019 - 10:07:31 AM | $900.00 | iCollegepainter |
| Oct 16, 2019 - 10:06:52 AM | $810.00 | iCorvette5279 |
| Oct 16, 2019 - 10:06:40 AM | $800.00 | iCollegepainter |
| Oct 16, 2019 - 10:06:41 AM | $800.00 | iCorvette5279 |
| Oct 16, 2019 - 10:06:22 AM | $710.00 | iCollegepainter |
| Oct 16, 2019 - 10:06:22 AM | $700.00 | iCorvette5279 |
| Oct 16, 2019 - 10:05:25 AM | $610.00 | iCorvette5279 |
| Oct 16, 2019 - 10:04:48 AM | $600.00 | iCollegepainter |
| Oct 16, 2019 - 10:04:49 AM | $600.00 | iCorvette5279 |
| Oct 16, 2019 - 10:02:25 AM | $560.00 | iCollegepainter |
| Oct 16, 2019 - 10:02:25 AM | $550.00 | iThelma |
| Oct 16, 2019 - 9:38:38 AM | $510.00 | iCollegepainter |
| Oct 16, 2019 - 9:38:38 AM | $500.00 | iThelma |
| Oct 16, 2019 - 9:32:21 AM | $299.27 | iCollegepainter |
| Oct 16, 2019 - 9:32:21 AM | $289.27 | ilenaecarrier |
| Oct 15, 2019 - 9:17:49 PM | $210.00 | ilenaecarrier |
| Oct 15, 2019 - 9:11:59 PM | $200.00 | iHotRodRob |
| Oct 15, 2019 - 9:11:59 PM | $190.00 | ilenaecarrier |
| Oct 15, 2019 - 10:49:53 AM | $180.00 | iHotRodRob |
| Oct 15, 2019 - 10:49:53 AM | $170.00 | iCorvette5279 |
| Oct 14, 2019 - 8:20:07 PM | $160.00 | iHotRodRob |
| Oct 14, 2019 - 8:20:07 PM | $150.00 | iCorvette5279 |
| Oct 14, 2019 - 7:44:12 PM | $85.00 | iCorvette5279 |
| Oct 14, 2019 - 7:44:12 PM | $80.00 | ilenaecarrier |
| Oct 14, 2019 - 7:03:38 PM | $75.00 | iCorvette5279 |
| Oct 14, 2019 - 7:03:38 PM | $70.00 | ilenaecarrier |
| Oct 14, 2019 - 7:03:28 PM | $65.00 | iCorvette5279 |
| Oct 14, 2019 - 7:03:28 PM | $60.00 | ilenaecarrier |
| Oct 12, 2019 - 11:01:44 PM | $55.00 | iCorvette5279 |
| Oct 12, 2019 - 11:01:44 PM | $50.00 | iadamsfishin |
| Oct 12, 2019 - 4:36:16 PM | $5.00 | iadamsfishin |