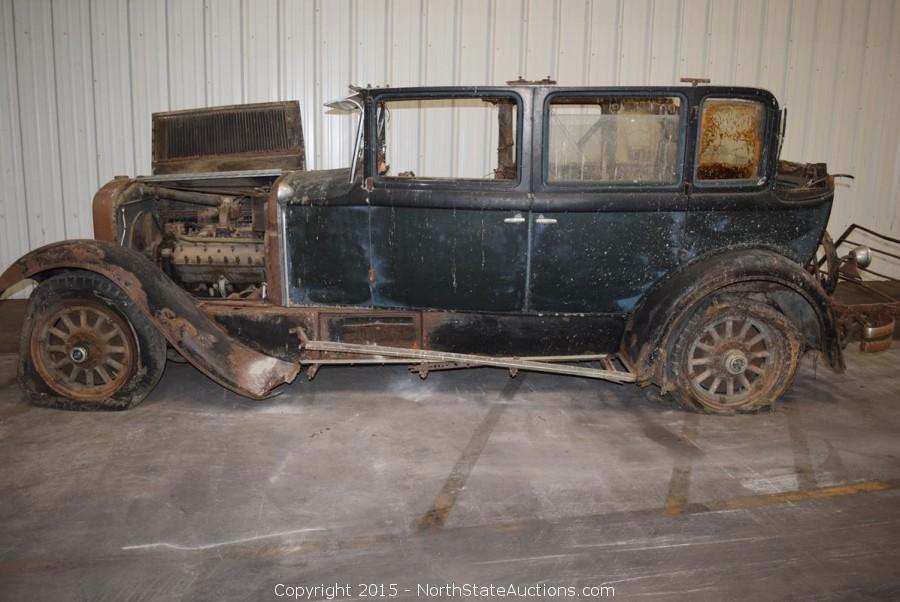 Lot #7003:
1929 Lincoln Sedan 5 Passenger 3 Window, Type 173B "Myriam"
Bidding is

closed

.
High Bid:
$600.00
NA
Bidding Ended:
Wed, Oct 16 10:03:00 am PT
High Bidder:
Collegepainter
Bid Increment:
$10.00
Starting Bid:
$5.00
Item Location:

4801 Feather River Blvd

,

Oroville

,

CA

Item has been viewed 1,309 times.

1929 Lincoln Sedan,  5 passenger 3 window . Yet another timeless classic, Lincoln Sedan.  This beauty is close to 100 years old.  If you buy her now she will be perfect for her centennial birthday.  Some new tires, a little paint, a lot of love and she will absolutely glow on the eve of her first century.  
Take a look at those so cool original wooden spoke rims,  absolutely impossible to find!  This beauty is all original and appears to be substantially complete, but come see for your self,  If you need any parts for your restoration project, this, and all of the cars in this sale have almost every part you could ever ask for.  
1929
Car #61206
Product # 58152
Body # 10-314
Original color B.G Med
V8 flathead
---
| | | |
| --- | --- | --- |
| Bid Date | Bid Amount | Bidder |
| Oct 16, 2019 - 10:02:11 AM | $600.00 | iCollegepainter |
| Oct 16, 2019 - 10:02:12 AM | $600.00 | iThelma |
| Oct 16, 2019 - 10:02:00 AM | $560.00 | iCollegepainter |
| Oct 16, 2019 - 10:02:00 AM | $550.00 | iThelma |
| Oct 16, 2019 - 10:01:44 AM | $510.00 | iCollegepainter |
| Oct 16, 2019 - 10:01:44 AM | $500.00 | iThelma |
| Oct 16, 2019 - 9:46:51 AM | $420.00 | iCollegepainter |
| Oct 16, 2019 - 9:39:46 AM | $410.00 | iThelma |
| Oct 16, 2019 - 9:39:33 AM | $400.00 | iCollegepainter |
| Oct 16, 2019 - 9:39:34 AM | $400.00 | iThelma |
| Oct 16, 2019 - 9:37:52 AM | $310.00 | iCollegepainter |
| Oct 16, 2019 - 9:37:52 AM | $300.00 | iThelma |
| Oct 16, 2019 - 9:31:37 AM | $220.00 | iCollegepainter |
| Oct 16, 2019 - 9:31:37 AM | $210.00 | iJunkyard |
| Oct 15, 2019 - 9:27:35 PM | $208.89 | iJunkyard |
| Oct 15, 2019 - 9:27:35 PM | $198.89 | ilenaecarrier |
| Oct 15, 2019 - 9:16:56 PM | $160.00 | ilenaecarrier |
| Oct 15, 2019 - 9:16:52 PM | $150.00 | iJunkyard |
| Oct 15, 2019 - 9:16:52 PM | $145.00 | ilenaecarrier |
| Oct 15, 2019 - 9:16:49 PM | $135.00 | iJunkyard |
| Oct 15, 2019 - 9:16:49 PM | $125.00 | ilenaecarrier |
| Oct 15, 2019 - 9:11:22 PM | $115.00 | iJunkyard |
| Oct 15, 2019 - 9:11:22 PM | $105.00 | ilenaecarrier |
| Oct 15, 2019 - 9:11:18 PM | $100.00 | iJunkyard |
| Oct 15, 2019 - 9:11:18 PM | $95.00 | ilenaecarrier |
| Oct 15, 2019 - 5:48:42 PM | $90.00 | iJunkyard |
| Oct 15, 2019 - 5:00:33 PM | $85.00 | ilenaecarrier |
| Oct 15, 2019 - 5:00:31 PM | $80.00 | iJunkyard |
| Oct 15, 2019 - 5:00:31 PM | $75.00 | ilenaecarrier |
| Oct 15, 2019 - 5:00:29 PM | $70.00 | iJunkyard |
| Oct 15, 2019 - 5:00:29 PM | $65.00 | ilenaecarrier |
| Oct 15, 2019 - 11:25:12 AM | $60.00 | iJunkyard |
| Oct 14, 2019 - 7:17:24 PM | $55.00 | ilenaecarrier |
| Oct 14, 2019 - 7:17:21 PM | $50.00 | iJunkyard |
| Oct 14, 2019 - 7:17:22 PM | $50.00 | ilenaecarrier |
| Oct 14, 2019 - 7:06:27 PM | $45.00 | iJunkyard |
| Oct 14, 2019 - 7:06:27 PM | $40.00 | ilenaecarrier |
| Oct 14, 2019 - 7:06:23 PM | $35.00 | iJunkyard |
| Oct 14, 2019 - 7:06:23 PM | $30.00 | ilenaecarrier |
| Oct 14, 2019 - 7:06:20 PM | $25.00 | iJunkyard |
| Oct 14, 2019 - 7:06:20 PM | $20.00 | ilenaecarrier |
| Oct 14, 2019 - 5:43:53 PM | $15.00 | iJunkyard |
| Oct 14, 2019 - 3:22:10 PM | $10.00 | iCorvette5279 |
| Oct 14, 2019 - 7:33:07 AM | $5.00 | iJunkyard |