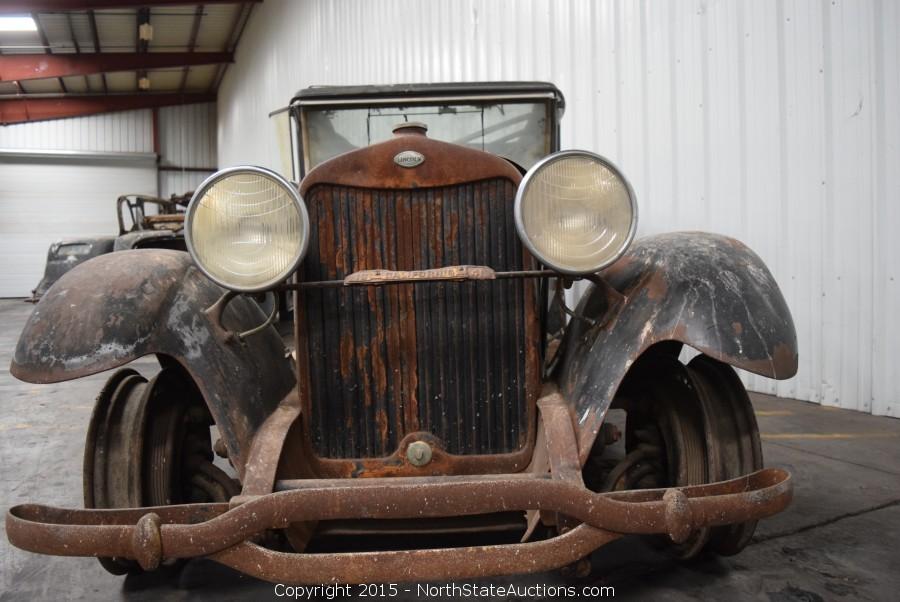 Lot #7001:
1929 Lincoln Town Sedan, 5 passenger, 2 window, V8, Type 169A "Millie"
Bidding is

closed

.
High Bid:
$1,950.00
NA
Bidding Ended:
Wed, Oct 16 10:01:00 am PT
High Bidder:
HotRodRob
Bid Increment:
$50.00
Starting Bid:
$5.00
Item Location:

4801 Feather River Blvd

,

Oroville

,

CA

Item has been viewed 1,714 times.

Up for auction sale is another fine Lincoln!  This vintage barn find car is very complete and all original.  Take a look at the complete headlights and the spoke wheels.  She needs lots of work but this is a fantastic platform from which to start your once in a lifetime restoration project.   
V8 gasoline engine, manual transmission, 
1929 Lincoln Town sedan
5 passenger
2 window
Car # 59680
Product # 59102
Body # 10-546
Original color Black
---
| | | |
| --- | --- | --- |
| Bid Date | Bid Amount | Bidder |
| Oct 16, 2019 - 10:03:14 AM | $1,950.00 | iHotRodRob |
| Oct 16, 2019 - 10:01:22 AM | $1,900.00 | iCollegepainter |
| Oct 16, 2019 - 10:01:22 AM | $1,850.00 | iHotRodRob |
| Oct 16, 2019 - 10:00:28 AM | $1,750.00 | iHotRodRob |
| Oct 16, 2019 - 10:00:28 AM | $1,700.00 | iCollegepainter |
| Oct 16, 2019 - 9:39:12 AM | $1,550.00 | iCollegepainter |
| Oct 16, 2019 - 9:39:12 AM | $1,500.00 | iThelma |
| Oct 16, 2019 - 9:37:38 AM | $1,250.00 | iCollegepainter |
| Oct 16, 2019 - 9:37:38 AM | $1,200.00 | iThelma |
| Oct 16, 2019 - 9:30:43 AM | $910.00 | iCollegepainter |
| Oct 16, 2019 - 9:15:17 AM | $900.00 | idtkstout |
| Oct 16, 2019 - 9:15:18 AM | $900.00 | iThelma |
| Oct 16, 2019 - 9:15:07 AM | $860.00 | idtkstout |
| Oct 16, 2019 - 9:15:07 AM | $850.00 | iThelma |
| Oct 16, 2019 - 9:05:42 AM | $830.00 | idtkstout |
| Oct 16, 2019 - 9:05:42 AM | $820.00 | iThelma |
| Oct 16, 2019 - 9:05:33 AM | $810.00 | idtkstout |
| Oct 16, 2019 - 9:05:33 AM | $800.00 | iThelma |
| Oct 14, 2019 - 7:46:12 PM | $760.00 | idtkstout |
| Oct 14, 2019 - 7:29:26 PM | $750.00 | iJunkyard |
| Oct 14, 2019 - 7:29:26 PM | $740.00 | idtkstout |
| Oct 14, 2019 - 7:29:15 PM | $730.00 | iJunkyard |
| Oct 14, 2019 - 7:29:15 PM | $720.00 | idtkstout |
| Oct 14, 2019 - 5:45:17 PM | $710.00 | iJunkyard |
| Oct 14, 2019 - 5:45:06 PM | $700.00 | idtkstout |
| Oct 14, 2019 - 5:45:07 PM | $700.00 | iJunkyard |
| Oct 14, 2019 - 5:44:54 PM | $660.00 | idtkstout |
| Oct 14, 2019 - 5:44:54 PM | $650.00 | iJunkyard |
| Oct 14, 2019 - 4:56:35 PM | $610.00 | idtkstout |
| Oct 14, 2019 - 4:56:35 PM | $600.00 | iJunkyard |
| Oct 13, 2019 - 8:01:36 PM | $510.00 | iJunkyard |
| Oct 13, 2019 - 8:01:26 PM | $500.00 | idtkstout |
| Oct 13, 2019 - 8:01:27 PM | $500.00 | iJunkyard |
| Oct 13, 2019 - 8:00:36 PM | $310.00 | idtkstout |
| Oct 13, 2019 - 8:00:36 PM | $300.00 | iJunkyard |
| Oct 12, 2019 - 9:23:26 PM | $55.00 | iJunkyard |
| Oct 12, 2019 - 9:23:26 PM | $50.00 | idtkstout |
| Oct 12, 2019 - 4:27:45 PM | $5.00 | idtkstout |