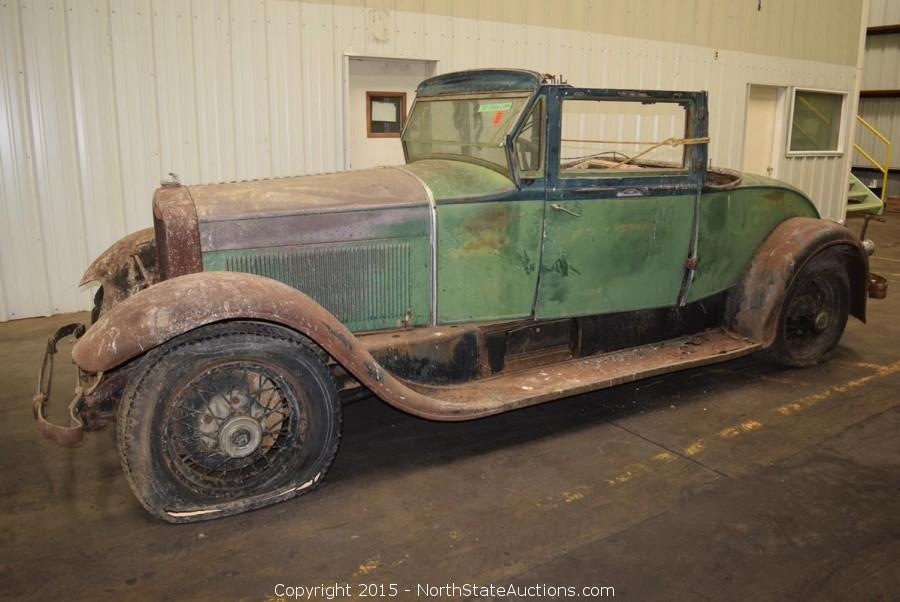 Lot #7006:
1929 Lincoln/Judkin Coupe, type 170, "Helen"
Bidding is

closed

.
High Bid:
$2,750.00
NA
Bidding Ended:
Wed, Oct 16 10:06:00 am PT
High Bidder:
HotRodRob
Bid Increment:
$50.00
Starting Bid:
$5.00
Item Location:

4801 Feather River Blvd

,

Oroville

,

CA

Item has been viewed 1,549 times.

One of the truly special cars in this auction, and the only Lincoln Coupe! When this car was built you could order the car with alternate body styles and this car was built with a Judkin body.  With the original V8 and manual transmission this car is sure to please.  The car is very complete down to the wire spoke rims and some of the original red cloisonne  Lincoln badges still on the car.  
Take a look at the original Judkin windshield frame and style, it juts out forward in a style that I, personally, have never seen before.  
1929 Judkin/Lincoln Coupe
Car# 56675
Product # 54989
Body # 5-11175
Type 170
Body manufactured by J.B. Judkins Co
Color Green, 2441478-5336
---
| | | |
| --- | --- | --- |
| Bid Date | Bid Amount | Bidder |
| Oct 16, 2019 - 10:11:36 AM | $2,750.00 | iHotRodRob |
| Oct 16, 2019 - 10:10:57 AM | $2,700.00 | iThelma |
| Oct 16, 2019 - 10:10:57 AM | $2,691.68 | iHotRodRob |
| Oct 16, 2019 - 10:09:00 AM | $2,650.00 | iHotRodRob |
| Oct 16, 2019 - 10:08:37 AM | $2,600.00 | iThelma |
| Oct 16, 2019 - 10:08:37 AM | $2,581.68 | iHotRodRob |
| Oct 16, 2019 - 10:07:05 AM | $2,550.00 | iHotRodRob |
| Oct 16, 2019 - 10:07:05 AM | $2,500.00 | iCollegepainter |
| Oct 16, 2019 - 10:06:24 AM | $2,350.00 | iHotRodRob |
| Oct 16, 2019 - 10:06:24 AM | $2,300.00 | iCollegepainter |
| Oct 16, 2019 - 10:05:44 AM | $2,250.00 | iCollegepainter |
| Oct 16, 2019 - 10:05:44 AM | $2,200.00 | iThelma |
| Oct 16, 2019 - 10:05:04 AM | $2,150.00 | iThelma |
| Oct 16, 2019 - 10:04:58 AM | $2,100.00 | iCollegepainter |
| Oct 16, 2019 - 10:04:59 AM | $2,100.00 | iThelma |
| Oct 16, 2019 - 9:47:30 AM | $1,950.00 | iCollegepainter |
| Oct 16, 2019 - 9:47:30 AM | $1,900.00 | iThelma |
| Oct 16, 2019 - 9:43:12 AM | $1,850.00 | iThelma |
| Oct 16, 2019 - 9:43:04 AM | $1,800.00 | iCollegepainter |
| Oct 16, 2019 - 9:43:05 AM | $1,800.00 | iThelma |
| Oct 16, 2019 - 9:42:58 AM | $1,750.00 | iCollegepainter |
| Oct 16, 2019 - 9:42:58 AM | $1,700.00 | iThelma |
| Oct 16, 2019 - 9:42:06 AM | $1,650.00 | iCollegepainter |
| Oct 16, 2019 - 9:42:06 AM | $1,600.00 | iThelma |
| Oct 16, 2019 - 9:38:49 AM | $1,550.00 | iCollegepainter |
| Oct 16, 2019 - 9:38:49 AM | $1,500.00 | iThelma |
| Oct 16, 2019 - 9:38:29 AM | $1,450.00 | iCollegepainter |
| Oct 16, 2019 - 9:38:29 AM | $1,400.00 | iThelma |
| Oct 16, 2019 - 9:38:22 AM | $1,250.00 | iCollegepainter |
| Oct 16, 2019 - 9:38:22 AM | $1,200.00 | iThelma |
| Oct 16, 2019 - 9:32:59 AM | $1,150.00 | iCollegepainter |
| Oct 16, 2019 - 9:32:59 AM | $1,100.00 | iThelma |
| Oct 16, 2019 - 9:05:21 AM | $1,060.00 | iThelma |
| Oct 16, 2019 - 8:21:04 AM | $1,010.00 | ipello1 |
| Oct 15, 2019 - 10:58:08 AM | $1,000.00 | iJunkyard |
| Oct 15, 2019 - 10:58:08 AM | $995.00 | iBidding_has_ended! |
| Oct 15, 2019 - 10:58:02 AM | $950.00 | iBidding_has_ended! |
| Oct 15, 2019 - 10:58:02 AM | $940.00 | iJunkyard |
| Oct 15, 2019 - 10:57:56 AM | $930.00 | iBidding_has_ended! |
| Oct 15, 2019 - 10:57:56 AM | $920.00 | iJunkyard |
| Oct 15, 2019 - 10:57:46 AM | $860.00 | iBidding_has_ended! |
| Oct 15, 2019 - 10:57:46 AM | $850.00 | iJunkyard |
| Oct 15, 2019 - 10:57:38 AM | $810.00 | iBidding_has_ended! |
| Oct 15, 2019 - 10:57:38 AM | $800.00 | iJunkyard |
| Oct 15, 2019 - 10:57:26 AM | $760.00 | iBidding_has_ended! |
| Oct 15, 2019 - 10:57:26 AM | $750.00 | iJunkyard |
| Oct 15, 2019 - 10:57:11 AM | $710.00 | iBidding_has_ended! |
| Oct 15, 2019 - 10:57:11 AM | $700.00 | iJunkyard |
| Oct 15, 2019 - 10:50:10 AM | $630.00 | iBidding_has_ended! |
| Oct 15, 2019 - 10:50:10 AM | $620.00 | iCorvette5279 |
| Oct 15, 2019 - 9:55:35 AM | $610.00 | iBidding_has_ended! |
| Oct 15, 2019 - 9:55:35 AM | $600.00 | iJunkyard |
| Oct 15, 2019 - 9:55:06 AM | $550.00 | iJunkyard |
| Oct 15, 2019 - 9:55:06 AM | $540.00 | iBidding_has_ended! |
| Oct 15, 2019 - 9:54:40 AM | $530.00 | iJunkyard |
| Oct 15, 2019 - 9:54:40 AM | $520.00 | iBidding_has_ended! |
| Oct 14, 2019 - 7:27:34 PM | $510.00 | iJunkyard |
| Oct 14, 2019 - 7:27:25 PM | $500.00 | iHotRodRob |
| Oct 14, 2019 - 7:27:26 PM | $500.00 | iJunkyard |
| Oct 14, 2019 - 7:03:04 PM | $330.00 | iHotRodRob |
| Oct 14, 2019 - 7:03:04 PM | $320.00 | ilenaecarrier |
| Oct 14, 2019 - 6:35:06 PM | $310.00 | iHotRodRob |
| Oct 14, 2019 - 6:35:06 PM | $300.00 | iJunkyard |
| Oct 12, 2019 - 9:21:50 PM | $55.00 | iJunkyard |
| Oct 12, 2019 - 9:21:50 PM | $50.00 | iadamsfishin |
| Oct 12, 2019 - 9:21:40 PM | $15.00 | iadamsfishin |
| Oct 12, 2019 - 9:21:40 PM | $10.00 | iJunkyard |
| Oct 12, 2019 - 11:32:35 AM | $5.00 | iadamsfishin |