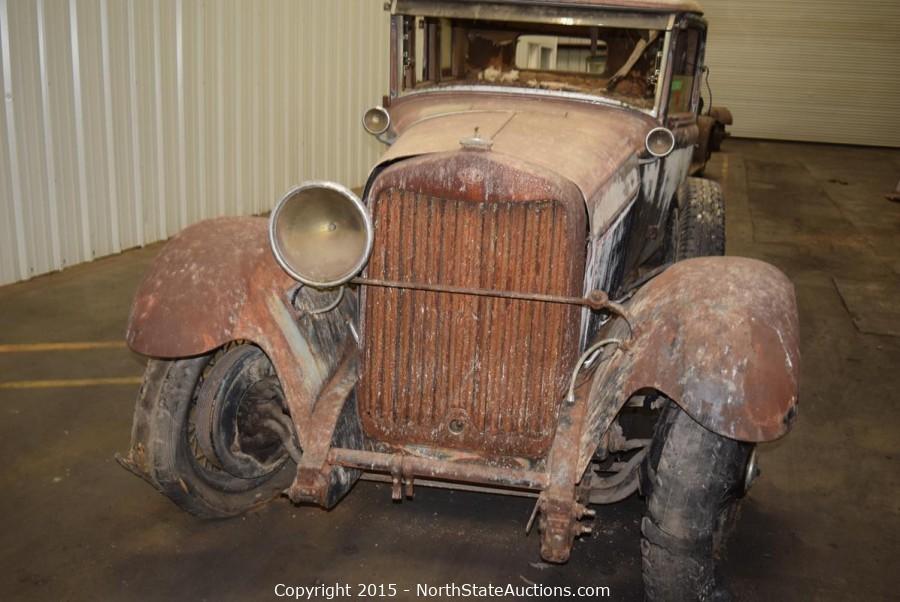 Lot #7009:
1930 Lincoln 168A, 7 Passenger Sedan, V8, "Jan"
Bidding is

closed

.
High Bid:
$1,300.00
NA
Bidding Ended:
Wed, Oct 16 10:09:00 am PT
High Bidder:
Collegepainter
Bid Increment:
$50.00
Starting Bid:
$5.00
Item Location:

4801 Feather River Blvd

,

Oroville

,

CA

Item has been viewed 998 times.

Yet another sweetheart from the past.  A 1930 Lincoln 7 passenger sedan up for auction sale.  
This car appears to be very complete and very original.  To me this is the consummate gangster car.  I can almost see the bad guys standing on the running boards, just inside the suiside doors, firing their Thompson machine guns as they make their get away.  Of course she needs some work, but to me the question is do you buy your new spats first or get to work on the body/mechanical first.  
 With the wire spoke wheels and the hard top this is one of the more interesting cars we have up for auction sale.  The hard to p means that the interior is in better condition than some of the other cars.  
Car # 62756
Product # 63074
Body # 10-1473
Type 168A
---
| | | |
| --- | --- | --- |
| Bid Date | Bid Amount | Bidder |
| Oct 16, 2019 - 10:08:20 AM | $1,300.00 | iCollegepainter |
| Oct 16, 2019 - 10:07:58 AM | $1,250.00 | iThelma |
| Oct 16, 2019 - 10:07:58 AM | $1,200.00 | iCollegepainter |
| Oct 16, 2019 - 10:07:18 AM | $1,150.00 | iCollegepainter |
| Oct 16, 2019 - 10:07:18 AM | $1,100.00 | iThelma |
| Oct 16, 2019 - 10:07:11 AM | $1,010.00 | iCollegepainter |
| Oct 16, 2019 - 10:07:11 AM | $1,000.00 | iThelma |
| Oct 16, 2019 - 9:41:42 AM | $960.00 | iCollegepainter |
| Oct 16, 2019 - 9:41:42 AM | $950.00 | iThelma |
| Oct 16, 2019 - 9:41:37 AM | $930.00 | iCollegepainter |
| Oct 16, 2019 - 9:41:37 AM | $920.00 | iThelma |
| Oct 16, 2019 - 9:40:07 AM | $910.00 | iCollegepainter |
| Oct 16, 2019 - 9:40:07 AM | $900.00 | iThelma |
| Oct 16, 2019 - 9:38:08 AM | $810.00 | iCollegepainter |
| Oct 16, 2019 - 9:38:08 AM | $800.00 | iThelma |
| Oct 16, 2019 - 9:33:47 AM | $520.00 | iCollegepainter |
| Oct 14, 2019 - 8:17:28 PM | $510.00 | idtkstout |
| Oct 14, 2019 - 8:17:18 PM | $500.00 | iHotRodRob |
| Oct 14, 2019 - 8:17:18 PM | $490.00 | idtkstout |
| Oct 14, 2019 - 8:17:13 PM | $480.00 | iHotRodRob |
| Oct 14, 2019 - 8:17:13 PM | $470.00 | idtkstout |
| Oct 14, 2019 - 8:17:08 PM | $460.00 | iHotRodRob |
| Oct 14, 2019 - 8:17:08 PM | $450.00 | idtkstout |
| Oct 14, 2019 - 8:17:02 PM | $440.00 | iHotRodRob |
| Oct 14, 2019 - 8:17:02 PM | $430.00 | idtkstout |
| Oct 14, 2019 - 8:16:52 PM | $420.00 | iHotRodRob |
| Oct 14, 2019 - 8:16:52 PM | $410.00 | idtkstout |
| Oct 14, 2019 - 8:16:46 PM | $400.00 | iHotRodRob |
| Oct 14, 2019 - 8:16:46 PM | $390.00 | idtkstout |
| Oct 14, 2019 - 8:16:38 PM | $380.00 | iHotRodRob |
| Oct 14, 2019 - 8:16:38 PM | $370.00 | idtkstout |
| Oct 14, 2019 - 8:10:29 PM | $360.00 | iHotRodRob |
| Oct 14, 2019 - 8:10:29 PM | $350.00 | idtkstout |
| Oct 14, 2019 - 7:39:49 PM | $310.00 | iHotRodRob |
| Oct 14, 2019 - 7:39:49 PM | $300.00 | idtkstout |
| Oct 14, 2019 - 7:04:49 PM | $280.00 | idtkstout |
| Oct 14, 2019 - 7:04:49 PM | $270.00 | ilenaecarrier |
| Oct 14, 2019 - 6:45:50 PM | $260.00 | idtkstout |
| Oct 14, 2019 - 6:45:50 PM | $250.00 | iJunkyard |
| Oct 14, 2019 - 6:45:42 PM | $160.00 | iJunkyard |
| Oct 14, 2019 - 6:45:42 PM | $150.00 | idtkstout |
| Oct 13, 2019 - 11:13:32 AM | $65.00 | iJunkyard |
| Oct 13, 2019 - 11:13:32 AM | $60.00 | iadamsfishin |
| Oct 12, 2019 - 4:35:52 PM | $5.00 | iadamsfishin |