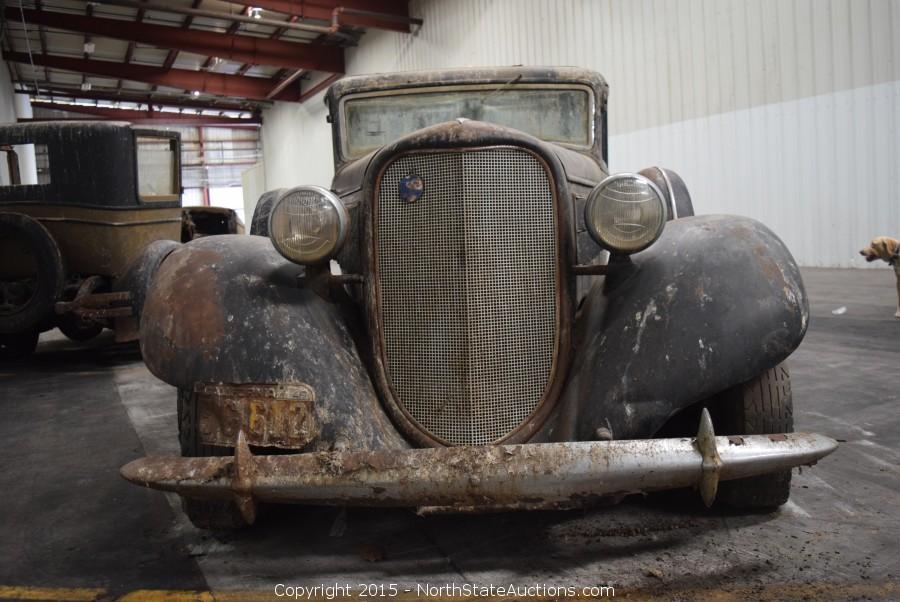 Lot #7002:
1935 Lincoln, Sedan 5 passenger, 3 window, 544 "Carol"
Bidding is

closed

.
High Bid:
$2,450.00
NA
Bidding Ended:
Wed, Oct 16 10:02:00 am PT
High Bidder:
Collegepainter
Bid Increment:
$50.00
Starting Bid:
$5.00
Item Location:

4801 Feather River Blvd

,

Oroville

,

CA

Item has been viewed 1,849 times.

1935 Lincoln, 5 passenger sedan, 3 window, 544
Take a look at the photos for this timeless classic!  V12 engine, manual transmission Barn find vehicle, All original, mostly complete.  Comes with not one but TWO original spare tires!  Unit "ran when parked" but that was a long time ago.  Look at those lines and all of the small parts that are still on this vehicle! This one is sure to be a bidders favorite.  A timeless antique vehicle in need of restoration, but that is the fun part! take a look at the gorgeous grill and the original enamel cloisonne badge on the grill and on the hubcap on the spare tire!  Original spoke rims make this one special. 
Original color Balck
Car # K4839
type 544
Product # 4851
body # 10-282
---
| | | |
| --- | --- | --- |
| Bid Date | Bid Amount | Bidder |
| Oct 16, 2019 - 9:54:44 AM | $2,450.00 | iCollegepainter |
| Oct 16, 2019 - 9:54:44 AM | $2,400.00 | iBigCig |
| Oct 16, 2019 - 9:48:02 AM | $2,350.00 | iCollegepainter |
| Oct 16, 2019 - 9:48:02 AM | $2,300.00 | iBigCig |
| Oct 16, 2019 - 9:47:52 AM | $2,150.00 | iCollegepainter |
| Oct 16, 2019 - 9:47:52 AM | $2,100.00 | iBigCig |
| Oct 16, 2019 - 9:43:32 AM | $1,950.00 | iCollegepainter |
| Oct 16, 2019 - 9:43:32 AM | $1,900.00 | isgandsons |
| Oct 16, 2019 - 9:31:18 AM | $1,850.00 | iCollegepainter |
| Oct 16, 2019 - 9:31:18 AM | $1,800.00 | isgandsons |
| Oct 16, 2019 - 9:09:13 AM | $1,651.00 | isgandsons |
| Oct 16, 2019 - 9:09:13 AM | $1,601.00 | iBigCig |
| Oct 16, 2019 - 8:54:57 AM | $1,550.00 | iBigCig |
| Oct 16, 2019 - 8:54:57 AM | $1,500.00 | isgandsons |
| Oct 16, 2019 - 8:54:51 AM | $1,451.00 | isgandsons |
| Oct 16, 2019 - 8:54:51 AM | $1,401.00 | iBigCig |
| Oct 16, 2019 - 8:54:44 AM | $1,351.00 | isgandsons |
| Oct 16, 2019 - 8:54:44 AM | $1,301.00 | iBigCig |
| Oct 16, 2019 - 8:54:37 AM | $1,251.00 | isgandsons |
| Oct 16, 2019 - 8:54:37 AM | $1,201.00 | iBigCig |
| Oct 15, 2019 - 6:36:32 PM | $1,150.00 | isgandsons |
| Oct 15, 2019 - 6:36:32 PM | $1,100.00 | iJunkyard |
| Oct 15, 2019 - 6:27:25 PM | $1,010.00 | iJunkyard |
| Oct 15, 2019 - 11:05:48 AM | $1,000.00 | isgandsons |
| Oct 15, 2019 - 11:05:49 AM | $1,000.00 | iJunkyard |
| Oct 15, 2019 - 11:05:38 AM | $985.00 | isgandsons |
| Oct 15, 2019 - 11:05:38 AM | $975.00 | iJunkyard |
| Oct 15, 2019 - 11:04:58 AM | $960.00 | isgandsons |
| Oct 15, 2019 - 11:04:58 AM | $950.00 | iJunkyard |
| Oct 15, 2019 - 11:04:20 AM | $910.00 | isgandsons |
| Oct 15, 2019 - 11:04:20 AM | $900.00 | iJunkyard |
| Oct 15, 2019 - 11:04:12 AM | $860.00 | isgandsons |
| Oct 15, 2019 - 11:04:12 AM | $850.00 | iJunkyard |
| Oct 15, 2019 - 11:01:12 AM | $710.00 | isgandsons |
| Oct 15, 2019 - 11:01:12 AM | $700.00 | iJunkyard |
| Oct 15, 2019 - 11:00:12 AM | $660.00 | isgandsons |
| Oct 15, 2019 - 11:00:12 AM | $650.00 | iJunkyard |
| Oct 14, 2019 - 8:34:06 PM | $610.00 | isgandsons |
| Oct 14, 2019 - 8:34:06 PM | $600.00 | iJunkyard |
| Oct 13, 2019 - 1:30:37 PM | $510.00 | iJunkyard |
| Oct 13, 2019 - 1:30:37 PM | $500.00 | isgandsons |
| Oct 13, 2019 - 1:30:26 PM | $350.00 | isgandsons |
| Oct 13, 2019 - 1:30:26 PM | $340.00 | iJunkyard |
| Oct 13, 2019 - 1:30:20 PM | $330.00 | isgandsons |
| Oct 13, 2019 - 1:30:20 PM | $320.00 | iJunkyard |
| Oct 13, 2019 - 1:26:31 PM | $310.00 | isgandsons |
| Oct 13, 2019 - 1:26:31 PM | $300.00 | iJunkyard |
| Oct 13, 2019 - 11:16:45 AM | $105.00 | iJunkyard |
| Oct 13, 2019 - 11:16:45 AM | $100.00 | isgandsons |
| Oct 12, 2019 - 8:50:37 PM | $55.00 | isgandsons |
| Oct 12, 2019 - 8:50:37 PM | $50.00 | idtkstout |
| Oct 12, 2019 - 4:31:23 PM | $5.00 | idtkstout |