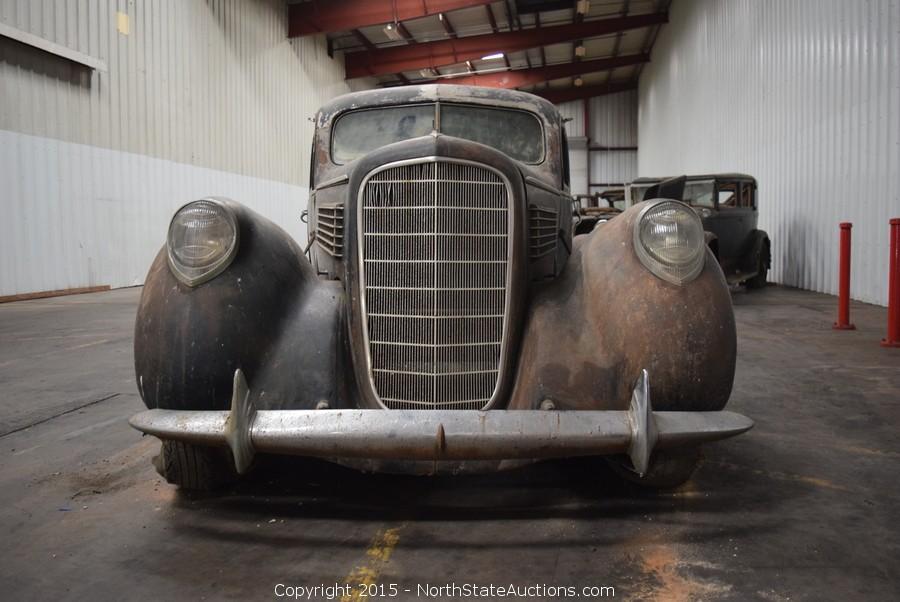 Lot #7000:
1938 Lincoln V12 Sedan 7 Passenger "Mildred"
Bidding is

closed

.
High Bid:
$2,450.00
NA
Bidding Ended:
Wed, Oct 16 10:00:00 am PT
High Bidder:
shadowdogcole
Bid Increment:
$50.00
Starting Bid:
$5.00
Item Location:

4801 Feather River Blvd

,

Oroville

,

CA

Item has been viewed 2,199 times.

1938 Lincoln V12
Up for auction sale is yet another fantastic example of the lost art of automobile manufacturing.  This unit while in need of full restoration is a true beauty.  From what I can see it is complete and in very good condition relative to its storage conditions and age.  It appears that all of the small interior parts are still in the car, saving you hundreds of hours of finding them and TONS of money purchasing them.  
Look at that grill!  It needs love but oh my, it positively sings to me. Add the grill to the sweep of the fenders and the lines of the car, its no question in my mind why some people refer to cars as a she.  This old girl has lost none of her beauty or clean lines in the intervening years.   This car has space for two spare tires, 
"Ran when parked"
1938 Lincoln Sedan 7 passenger
Car # K9275
Product # 9008
Body # 10/5
Type 407A
V12
Manual transmission
Aluminum body.  Original color was Royal blue
---
| | | |
| --- | --- | --- |
| Bid Date | Bid Amount | Bidder |
| Oct 16, 2019 - 10:02:49 AM | $2,450.00 | ishadowdogcole |
| Oct 16, 2019 - 10:02:42 AM | $2,400.00 | iCollegepainter |
| Oct 16, 2019 - 10:02:42 AM | $2,350.00 | ishadowdogcole |
| Oct 16, 2019 - 10:01:06 AM | $2,300.00 | ishadowdogcole |
| Oct 16, 2019 - 9:59:17 AM | $2,250.00 | iCollegepainter |
| Oct 16, 2019 - 9:59:17 AM | $2,210.00 | icooper |
| Oct 16, 2019 - 9:56:13 AM | $2,150.00 | iCollegepainter |
| Oct 16, 2019 - 9:54:40 AM | $2,100.00 | iCorvette5279 |
| Oct 16, 2019 - 9:54:32 AM | $2,050.00 | iBigCig |
| Oct 16, 2019 - 9:50:47 AM | $2,000.00 | iCollegepainter |
| Oct 16, 2019 - 9:50:20 AM | $1,950.00 | iBigCig |
| Oct 16, 2019 - 9:49:10 AM | $1,900.00 | ishadowdogcole |
| Oct 16, 2019 - 9:48:20 AM | $1,850.00 | iBigCig |
| Oct 16, 2019 - 9:40:10 AM | $1,800.00 | iCollegepainter |
| Oct 16, 2019 - 9:40:10 AM | $1,752.00 | icooper |
| Oct 16, 2019 - 9:30:04 AM | $1,401.00 | iCollegepainter |
| Oct 16, 2019 - 9:30:04 AM | $1,351.00 | iBigCig |
| Oct 16, 2019 - 8:54:15 AM | $1,138.88 | iBigCig |
| Oct 16, 2019 - 8:54:15 AM | $1,088.88 | iron2fishing |
| Oct 15, 2019 - 9:33:46 PM | $1,051.00 | iron2fishing |
| Oct 15, 2019 - 9:28:23 PM | $1,001.00 | iBigCig |
| Oct 15, 2019 - 9:28:23 PM | $1,000.00 | iJunkyard |
| Oct 15, 2019 - 4:54:32 PM | $955.00 | iBigCig |
| Oct 15, 2019 - 4:54:32 PM | $945.00 | iclemley11112 |
| Oct 15, 2019 - 11:31:08 AM | $935.00 | iBigCig |
| Oct 15, 2019 - 11:31:08 AM | $925.00 | iJunkyard |
| Oct 15, 2019 - 11:30:59 AM | $860.00 | iBigCig |
| Oct 15, 2019 - 11:30:59 AM | $850.00 | iJunkyard |
| Oct 15, 2019 - 11:30:49 AM | $810.00 | iBigCig |
| Oct 15, 2019 - 11:30:49 AM | $800.00 | iJunkyard |
| Oct 15, 2019 - 11:30:17 AM | $760.00 | iBigCig |
| Oct 15, 2019 - 11:30:17 AM | $750.00 | iJunkyard |
| Oct 15, 2019 - 11:29:05 AM | $610.00 | iBigCig |
| Oct 15, 2019 - 11:29:05 AM | $600.00 | iJunkyard |
| Oct 14, 2019 - 2:41:31 PM | $510.00 | iJunkyard |
| Oct 14, 2019 - 2:41:31 PM | $500.00 | ishadowdogcole |
| Oct 14, 2019 - 2:41:20 PM | $460.00 | ishadowdogcole |
| Oct 14, 2019 - 2:41:20 PM | $450.00 | iJunkyard |
| Oct 14, 2019 - 2:11:12 PM | $410.00 | ishadowdogcole |
| Oct 14, 2019 - 2:11:12 PM | $400.00 | iJunkyard |
| Oct 14, 2019 - 7:27:00 AM | $320.00 | iJunkyard |
| Oct 13, 2019 - 11:38:52 PM | $310.00 | i1938Lincoln |
| Oct 13, 2019 - 11:38:17 PM | $300.00 | iJunkyard |
| Oct 13, 2019 - 11:38:17 PM | $290.00 | i1938Lincoln |
| Oct 13, 2019 - 11:37:57 PM | $280.00 | iJunkyard |
| Oct 13, 2019 - 11:37:57 PM | $270.00 | i1938Lincoln |
| Oct 13, 2019 - 6:07:31 PM | $260.00 | iJunkyard |
| Oct 13, 2019 - 6:07:31 PM | $250.00 | i1938Lincoln |
| Oct 13, 2019 - 10:46:57 AM | $210.00 | i1938Lincoln |
| Oct 13, 2019 - 10:46:57 AM | $200.00 | i100john |
| Oct 12, 2019 - 8:42:49 AM | $5.00 | i100john |