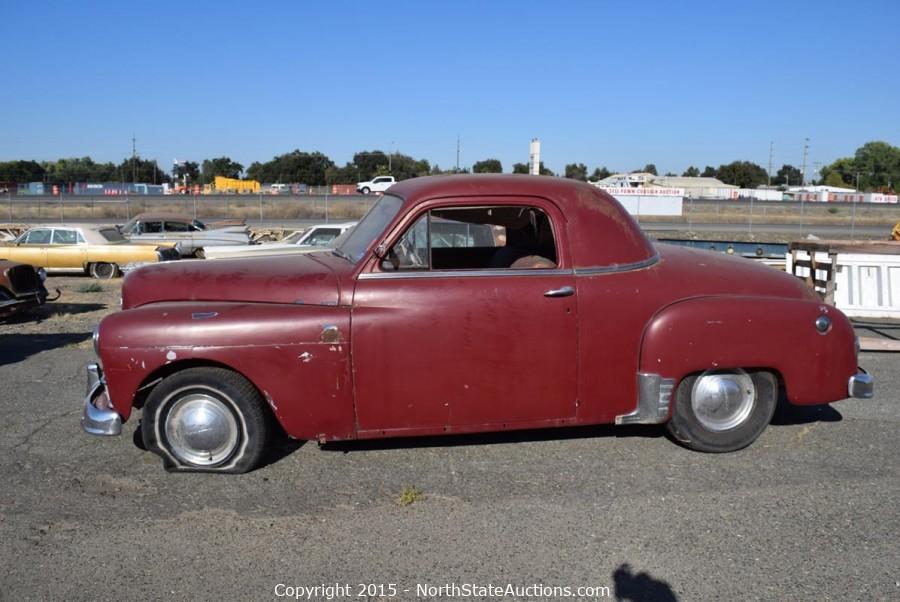 Lot #7019:
1950 Plymouth Coupe
Bidding is

closed

.
High Bid:
$2,051.00
NA
Bidding Ended:
Wed, Oct 16 10:19:00 am PT
High Bidder:
TheKingofSpades
Bid Increment:
$50.00
Starting Bid:
$5.00
Item Location:

4801 Feather River Blvd

,

Oroville

,

CA

Item has been viewed 884 times.

Up for auction sale, to the highest bidder is another great classic and vintage auto.  
1950 Plymouth  
Flathead straight six cylinder engine 
The car looks relatively complete and also appears to be substantially original.  
Get in early and bid big to win this great looking automobile.  
---
| | | |
| --- | --- | --- |
| Bid Date | Bid Amount | Bidder |
| Oct 16, 2019 - 10:22:52 AM | $2,051.00 | iTheKingofSpades |
| Oct 16, 2019 - 10:21:59 AM | $2,001.00 | i |
| Oct 16, 2019 - 10:21:59 AM | $2,000.00 | iTheKingofSpades |
| Oct 16, 2019 - 10:20:42 AM | $1,950.00 | iTheKingofSpades |
| Oct 16, 2019 - 10:20:42 AM | $1,900.00 | i |
| Oct 16, 2019 - 10:20:01 AM | $1,800.00 | iTheKingofSpades |
| Oct 16, 2019 - 10:20:01 AM | $1,751.03 | i |
| Oct 16, 2019 - 10:18:18 AM | $1,651.00 | iTheKingofSpades |
| Oct 16, 2019 - 10:18:18 AM | $1,601.00 | i |
| Oct 16, 2019 - 10:15:17 AM | $1,550.00 | i |
| Oct 16, 2019 - 10:07:33 AM | $1,500.00 | iTheKingofSpades |
| Oct 16, 2019 - 10:07:33 AM | $1,450.00 | ilenaecarrier |
| Oct 16, 2019 - 10:07:05 AM | $1,400.00 | iTheKingofSpades |
| Oct 16, 2019 - 10:07:05 AM | $1,350.00 | ilenaecarrier |
| Oct 16, 2019 - 9:57:36 AM | $1,300.00 | iTheKingofSpades |
| Oct 16, 2019 - 9:57:36 AM | $1,250.00 | i |
| Oct 16, 2019 - 8:44:26 AM | $1,210.00 | i |
| Oct 15, 2019 - 8:51:54 PM | $1,160.00 | ilenaecarrier |
| Oct 15, 2019 - 8:51:54 PM | $1,137.41 | i |
| Oct 15, 2019 - 8:51:51 PM | $1,110.00 | i |
| Oct 15, 2019 - 8:51:51 PM | $1,060.00 | ilenaecarrier |
| Oct 15, 2019 - 8:51:49 PM | $1,010.00 | i |
| Oct 15, 2019 - 8:51:49 PM | $1,000.00 | ilenaecarrier |
| Oct 15, 2019 - 8:51:46 PM | $990.00 | i |
| Oct 15, 2019 - 8:51:46 PM | $980.00 | ilenaecarrier |
| Oct 15, 2019 - 7:25:16 PM | $970.00 | i |
| Oct 15, 2019 - 7:12:08 PM | $960.00 | ilenaecarrier |
| Oct 15, 2019 - 7:12:06 PM | $950.00 | i |
| Oct 15, 2019 - 7:12:06 PM | $940.00 | ilenaecarrier |
| Oct 15, 2019 - 7:12:05 PM | $930.00 | i |
| Oct 15, 2019 - 7:12:05 PM | $920.00 | ilenaecarrier |
| Oct 15, 2019 - 7:12:03 PM | $910.00 | i |
| Oct 15, 2019 - 7:12:03 PM | $900.00 | ilenaecarrier |
| Oct 15, 2019 - 7:12:00 PM | $890.00 | i |
| Oct 15, 2019 - 7:12:00 PM | $880.00 | ilenaecarrier |
| Oct 15, 2019 - 5:07:50 PM | $870.00 | i |
| Oct 15, 2019 - 4:59:28 PM | $860.00 | ilenaecarrier |
| Oct 15, 2019 - 4:59:25 PM | $850.00 | inotme |
| Oct 15, 2019 - 4:59:25 PM | $846.66 | ilenaecarrier |
| Oct 15, 2019 - 4:59:23 PM | $836.66 | inotme |
| Oct 15, 2019 - 4:59:23 PM | $826.66 | ilenaecarrier |
| Oct 15, 2019 - 4:59:20 PM | $816.66 | inotme |
| Oct 15, 2019 - 4:59:20 PM | $806.66 | ilenaecarrier |
| Oct 15, 2019 - 4:59:18 PM | $796.66 | inotme |
| Oct 15, 2019 - 4:59:18 PM | $786.66 | ilenaecarrier |
| Oct 15, 2019 - 4:59:16 PM | $776.66 | inotme |
| Oct 15, 2019 - 4:59:16 PM | $766.66 | ilenaecarrier |
| Oct 15, 2019 - 4:59:13 PM | $756.66 | inotme |
| Oct 15, 2019 - 4:59:13 PM | $746.66 | ilenaecarrier |
| Oct 15, 2019 - 4:59:10 PM | $736.66 | inotme |
| Oct 15, 2019 - 4:59:10 PM | $726.66 | ilenaecarrier |
| Oct 15, 2019 - 4:59:08 PM | $716.66 | inotme |
| Oct 15, 2019 - 4:59:08 PM | $706.66 | ilenaecarrier |
| Oct 15, 2019 - 4:53:24 PM | $696.66 | inotme |
| Oct 15, 2019 - 4:53:24 PM | $686.66 | iclemley11112 |
| Oct 15, 2019 - 4:37:23 PM | $676.66 | inotme |
| Oct 15, 2019 - 4:37:23 PM | $666.66 | i |
| Oct 15, 2019 - 11:52:03 AM | $650.00 | i |
| Oct 14, 2019 - 7:05:15 PM | $640.00 | ilenaecarrier |
| Oct 14, 2019 - 6:04:22 PM | $630.00 | iclemley11112 |
| Oct 14, 2019 - 5:51:53 PM | $620.00 | ilenaecarrier |
| Oct 14, 2019 - 4:37:44 PM | $610.00 | iclemley11112 |
| Oct 14, 2019 - 4:37:44 PM | $600.00 | inotme |
| Oct 14, 2019 - 4:37:28 PM | $570.00 | inotme |
| Oct 14, 2019 - 4:37:28 PM | $560.00 | iclemley11112 |
| Oct 14, 2019 - 4:37:16 PM | $517.00 | inotme |
| Oct 14, 2019 - 4:37:16 PM | $507.00 | iclemley11112 |
| Oct 14, 2019 - 4:37:02 PM | $410.00 | inotme |
| Oct 14, 2019 - 4:37:02 PM | $400.00 | iclemley11112 |
| Oct 14, 2019 - 4:36:48 PM | $360.00 | inotme |
| Oct 14, 2019 - 4:36:48 PM | $350.00 | iclemley11112 |
| Oct 14, 2019 - 4:36:30 PM | $310.00 | inotme |
| Oct 14, 2019 - 4:36:30 PM | $300.00 | iclemley11112 |
| Oct 14, 2019 - 2:07:04 PM | $220.00 | inotme |
| Oct 13, 2019 - 7:55:39 AM | $210.00 | ilenaecarrier |
| Oct 13, 2019 - 7:55:37 AM | $200.00 | iadamsfishin |
| Oct 13, 2019 - 7:55:37 AM | $196.00 | ilenaecarrier |
| Oct 13, 2019 - 7:55:34 AM | $186.00 | iadamsfishin |
| Oct 13, 2019 - 7:55:34 AM | $176.00 | ilenaecarrier |
| Oct 13, 2019 - 7:55:31 AM | $166.00 | iadamsfishin |
| Oct 13, 2019 - 7:55:31 AM | $156.00 | ilenaecarrier |
| Oct 13, 2019 - 7:55:29 AM | $146.00 | iadamsfishin |
| Oct 13, 2019 - 7:55:29 AM | $136.00 | ilenaecarrier |
| Oct 13, 2019 - 7:55:22 AM | $126.00 | iadamsfishin |
| Oct 13, 2019 - 7:55:22 AM | $116.00 | ilenaecarrier |
| Oct 12, 2019 - 4:16:44 PM | $106.00 | iadamsfishin |
| Oct 12, 2019 - 4:16:25 PM | $101.00 | iBarginfinder |
| Oct 12, 2019 - 4:16:25 PM | $100.00 | iadamsfishin |
| Oct 12, 2019 - 2:17:12 PM | $55.00 | iBarginfinder |
| Oct 12, 2019 - 2:17:12 PM | $50.00 | iadamsfishin |
| Oct 12, 2019 - 1:56:08 PM | $15.00 | iadamsfishin |
| Oct 12, 2019 - 1:56:08 PM | $10.00 | iBarginfinder |
| Oct 12, 2019 - 11:30:12 AM | $5.00 | iadamsfishin |