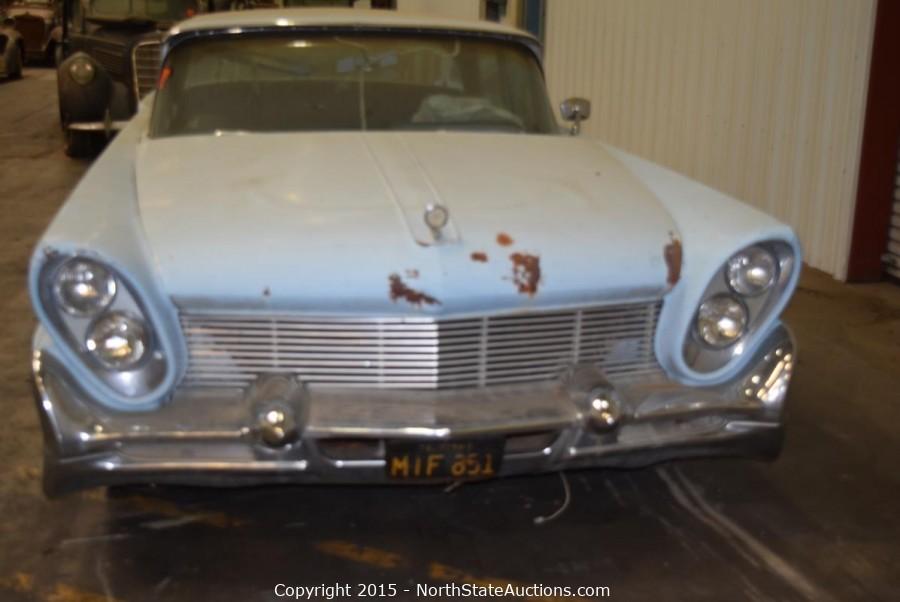 Lot #7012:
1958 Lincoln Capri "Erin"
Bidding is

closed

.
High Bid:
$1,307.00
NA
Bidding Ended:
Wed, Oct 16 10:12:00 am PT
High Bidder:
BigCig
Bid Increment:
$50.00
Starting Bid:
$5.00
Item Location:

4801 Feather River Blvd

,

Oroville

,

CA

Item has been viewed 777 times.

This is one of those cars that  I did not appreciate at first, but the more I look at it, the more I like it.  The body looks pretty good, the interior looks good, and the engine is all there and appears complete.  
1958 model year
V8 engine
automatic transmission 
---
| | | |
| --- | --- | --- |
| Bid Date | Bid Amount | Bidder |
| Oct 16, 2019 - 10:12:11 AM | $1,307.00 | iBigCig |
| Oct 16, 2019 - 10:12:11 AM | $1,257.00 | ilenaecarrier |
| Oct 16, 2019 - 10:10:36 AM | $1,207.00 | iBigCig |
| Oct 16, 2019 - 10:10:36 AM | $1,157.00 | ilenaecarrier |
| Oct 16, 2019 - 10:08:29 AM | $1,107.00 | iBigCig |
| Oct 16, 2019 - 10:08:29 AM | $1,057.00 | ilenaecarrier |
| Oct 16, 2019 - 10:06:14 AM | $1,007.00 | iBigCig |
| Oct 16, 2019 - 10:06:14 AM | $997.00 | ilenaecarrier |
| Oct 16, 2019 - 10:06:10 AM | $987.00 | iBigCig |
| Oct 16, 2019 - 10:06:10 AM | $977.00 | ilenaecarrier |
| Oct 16, 2019 - 10:06:08 AM | $967.00 | iBigCig |
| Oct 16, 2019 - 10:06:08 AM | $957.00 | ilenaecarrier |
| Oct 16, 2019 - 10:06:05 AM | $947.00 | iBigCig |
| Oct 16, 2019 - 10:06:05 AM | $937.00 | ilenaecarrier |
| Oct 16, 2019 - 10:05:21 AM | $927.00 | iBigCig |
| Oct 16, 2019 - 10:05:21 AM | $917.00 | ilenaecarrier |
| Oct 16, 2019 - 10:05:17 AM | $907.00 | iBigCig |
| Oct 16, 2019 - 10:05:17 AM | $897.00 | ilenaecarrier |
| Oct 16, 2019 - 10:05:01 AM | $887.00 | iBigCig |
| Oct 16, 2019 - 10:05:01 AM | $877.00 | ilenaecarrier |
| Oct 16, 2019 - 10:04:54 AM | $867.00 | iBigCig |
| Oct 16, 2019 - 10:04:54 AM | $857.00 | ilenaecarrier |
| Oct 16, 2019 - 10:04:50 AM | $847.00 | iBigCig |
| Oct 16, 2019 - 10:04:50 AM | $837.00 | ilenaecarrier |
| Oct 16, 2019 - 10:04:47 AM | $827.00 | iBigCig |
| Oct 16, 2019 - 10:04:47 AM | $817.00 | ilenaecarrier |
| Oct 16, 2019 - 10:04:45 AM | $807.00 | iBigCig |
| Oct 16, 2019 - 10:04:45 AM | $797.00 | ilenaecarrier |
| Oct 16, 2019 - 9:32:12 AM | $787.00 | iBigCig |
| Oct 16, 2019 - 9:32:12 AM | $777.00 | iThelma |
| Oct 16, 2019 - 9:14:47 AM | $667.00 | iThelma |
| Oct 16, 2019 - 9:14:47 AM | $657.00 | iBigCig |
| Oct 16, 2019 - 9:02:57 AM | $579.89 | iBigCig |
| Oct 16, 2019 - 9:02:57 AM | $569.89 | ilenaecarrier |
| Oct 16, 2019 - 2:21:21 AM | $510.00 | ilenaecarrier |
| Oct 16, 2019 - 2:21:21 AM | $500.00 | inotme |
| Oct 16, 2019 - 2:21:06 AM | $410.00 | ilenaecarrier |
| Oct 16, 2019 - 2:21:06 AM | $400.00 | inotme |
| Oct 15, 2019 - 9:07:47 PM | $289.69 | ilenaecarrier |
| Oct 15, 2019 - 9:07:47 PM | $280.00 | iJunkyard |
| Oct 15, 2019 - 7:12:54 PM | $260.00 | ilenaecarrier |
| Oct 15, 2019 - 7:12:52 PM | $250.00 | iJunkyard |
| Oct 15, 2019 - 7:12:53 PM | $250.00 | ilenaecarrier |
| Oct 15, 2019 - 7:12:47 PM | $240.00 | iJunkyard |
| Oct 15, 2019 - 7:12:47 PM | $230.00 | ilenaecarrier |
| Oct 15, 2019 - 5:49:40 PM | $220.00 | iJunkyard |
| Oct 15, 2019 - 5:01:11 PM | $210.00 | ilenaecarrier |
| Oct 15, 2019 - 5:01:09 PM | $200.00 | iJunkyard |
| Oct 15, 2019 - 5:01:09 PM | $195.00 | ilenaecarrier |
| Oct 15, 2019 - 5:01:07 PM | $185.00 | iJunkyard |
| Oct 15, 2019 - 5:01:07 PM | $175.00 | ilenaecarrier |
| Oct 15, 2019 - 5:01:05 PM | $165.00 | iJunkyard |
| Oct 15, 2019 - 5:01:05 PM | $155.00 | ilenaecarrier |
| Oct 15, 2019 - 5:01:03 PM | $145.00 | iJunkyard |
| Oct 15, 2019 - 5:01:03 PM | $135.00 | ilenaecarrier |
| Oct 15, 2019 - 11:14:38 AM | $125.00 | iJunkyard |
| Oct 14, 2019 - 8:12:55 PM | $115.00 | idtkstout |
| Oct 14, 2019 - 7:15:10 PM | $105.00 | ilenaecarrier |
| Oct 14, 2019 - 7:07:59 PM | $100.00 | iCADILLACRICHARD |
| Oct 14, 2019 - 7:08:00 PM | $100.00 | ilenaecarrier |
| Oct 14, 2019 - 7:07:56 PM | $95.00 | iCADILLACRICHARD |
| Oct 14, 2019 - 7:07:56 PM | $90.00 | ilenaecarrier |
| Oct 14, 2019 - 7:07:53 PM | $85.00 | iCADILLACRICHARD |
| Oct 14, 2019 - 7:07:53 PM | $80.00 | ilenaecarrier |
| Oct 14, 2019 - 7:07:50 PM | $75.00 | iCADILLACRICHARD |
| Oct 14, 2019 - 7:07:50 PM | $70.00 | ilenaecarrier |
| Oct 14, 2019 - 5:52:07 PM | $65.00 | iCADILLACRICHARD |
| Oct 14, 2019 - 5:52:07 PM | $60.00 | ilenaecarrier |
| Oct 14, 2019 - 4:21:02 PM | $55.00 | iCADILLACRICHARD |
| Oct 14, 2019 - 4:21:02 PM | $50.00 | iadamsfishin |
| Oct 13, 2019 - 12:52:00 AM | $35.00 | iadamsfishin |
| Oct 13, 2019 - 12:52:00 AM | $30.00 | ijonnyboy |
| Oct 12, 2019 - 4:15:35 PM | $5.00 | iadamsfishin |