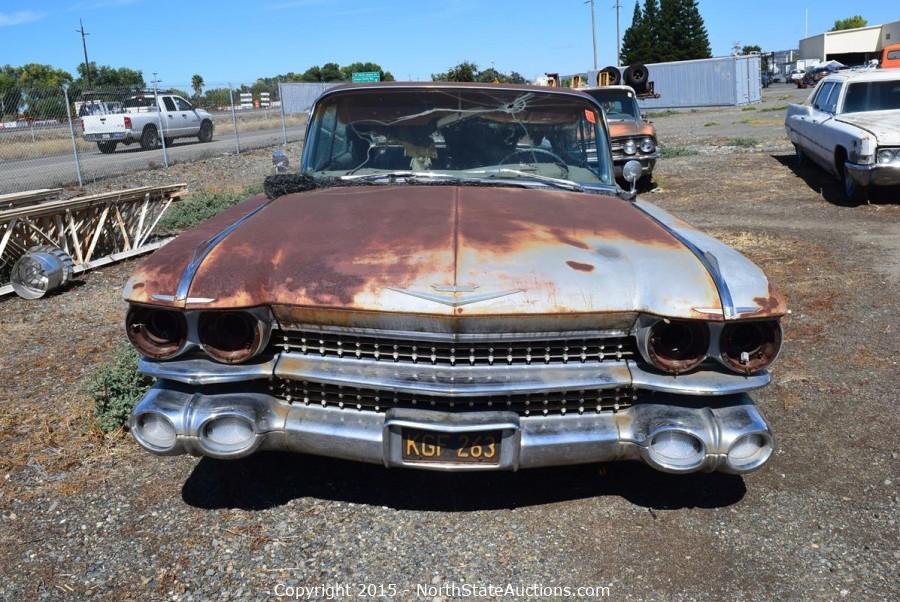 Lot #7023:
1959 Cadillac Fleetwood Sedan. "Shonda"
Bidding is

closed

.
High Bid:
$3,650.00
NA
Bidding Ended:
Wed, Oct 16 10:23:00 am PT
High Bidder:
Bigfins59
Bid Increment:
$50.00
Starting Bid:
$5.00
Item Location:

4801 Feather River Blvd

,

Oroville

,

CA

Item has been viewed 1,024 times.

This is the one EVERYONE is looking for!  An original 1959 Cadillac Fleetwood sedan.  
This car does have some rust, but otherwise she is very complete and it looks like most of the small parts and chrome is still intact.  This would be a fantastic builder, or if really necessary, this would make a great donor car for the total build of your dream Cadillac.  
While not my personal favorite this style is  probably the most noticeable of the 1950s Cadillac BIG CHROME designs.  Just imagine yourself cruising Hot August Nights in this timeless chrome classic.   
---
| | | |
| --- | --- | --- |
| Bid Date | Bid Amount | Bidder |
| Oct 16, 2019 - 9:40:31 AM | $3,650.00 | iBigfins59 |
| Oct 16, 2019 - 9:40:31 AM | $3,600.00 | iThelma |
| Oct 16, 2019 - 9:33:02 AM | $3,450.00 | iBigfins59 |
| Oct 16, 2019 - 9:33:02 AM | $3,400.00 | iBigCig |
| Oct 16, 2019 - 9:13:43 AM | $3,050.00 | iBigfins59 |
| Oct 16, 2019 - 9:13:43 AM | $3,000.00 | iThelma |
| Oct 16, 2019 - 9:13:35 AM | $2,550.00 | iBigfins59 |
| Oct 16, 2019 - 9:13:35 AM | $2,500.00 | iThelma |
| Oct 16, 2019 - 9:13:27 AM | $2,050.00 | iBigfins59 |
| Oct 16, 2019 - 9:13:27 AM | $2,000.00 | iThelma |
| Oct 16, 2019 - 9:13:21 AM | $1,550.00 | iBigfins59 |
| Oct 16, 2019 - 9:13:21 AM | $1,500.00 | iThelma |
| Oct 14, 2019 - 11:18:43 PM | $1,310.00 | iBigfins59 |
| Oct 14, 2019 - 11:18:43 PM | $1,260.00 | iMordechai |
| Oct 14, 2019 - 11:17:44 PM | $1,210.00 | iBigfins59 |
| Oct 14, 2019 - 11:17:44 PM | $1,160.00 | iMordechai |
| Oct 14, 2019 - 4:19:10 PM | $1,010.00 | iBigfins59 |
| Oct 14, 2019 - 4:19:10 PM | $1,000.00 | iCADILLACRICHARD |
| Oct 13, 2019 - 7:12:02 PM | $560.00 | iBigfins59 |
| Oct 13, 2019 - 7:12:02 PM | $550.00 | idtkstout |
| Oct 13, 2019 - 7:11:28 PM | $510.00 | iBigfins59 |
| Oct 13, 2019 - 7:11:28 PM | $500.00 | idtkstout |
| Oct 13, 2019 - 7:11:21 PM | $410.00 | iBigfins59 |
| Oct 13, 2019 - 7:11:21 PM | $400.00 | idtkstout |
| Oct 13, 2019 - 7:11:06 PM | $310.00 | iBigfins59 |
| Oct 13, 2019 - 7:11:06 PM | $300.00 | idtkstout |
| Oct 13, 2019 - 7:10:58 PM | $210.00 | iBigfins59 |
| Oct 13, 2019 - 7:10:58 PM | $200.00 | idtkstout |
| Oct 13, 2019 - 7:10:48 PM | $105.00 | iBigfins59 |
| Oct 13, 2019 - 7:10:48 PM | $100.00 | idtkstout |
| Oct 13, 2019 - 7:04:05 PM | $30.00 | iBigfins59 |
| Oct 13, 2019 - 7:04:05 PM | $25.00 | idtkstout |
| Oct 12, 2019 - 4:25:13 PM | $15.00 | idtkstout |
| Oct 12, 2019 - 4:25:13 PM | $10.00 | iarmcandy |
| Oct 12, 2019 - 1:46:07 PM | $5.00 | iarmcandy |