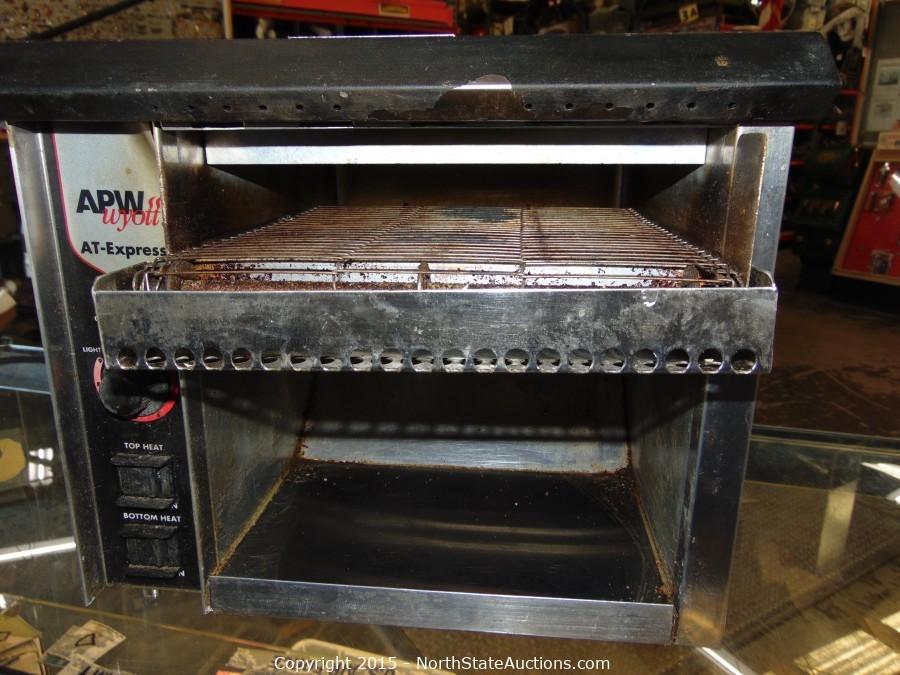 APW- wyott
American Permanent Ware Company
729 Third Ave., Dallas, TX 75226
Model: AT-EXPRESS
S/N: 800051306016
P/N: 93300000
Volts: 120
Watts: 1725
Hz: 60
Ph: 1
UL CORP ID -100121-964
Assembled in Nogales, Mexico
UL File: E40876
Seller's Disclaimer: Please Read Thoroughly
Payment
You will receive your invoice within 24 hours of your order request. This will include your total balance including applicable sales tax and fees.
California residents pay local sales tax of 7.5%.
We ask that you promptly pay for your item. Payment is due within four days of your order request.
PayPal is our preferred method of payment & recommended for buyer protection. PayPal accounts must have a confirmed address (within the United States). Sorry, no international PayPal payments accepted.
If paying with electronic check through PayPal, your item will ship when the payment clears.
Items that are eligible for return will be accepted within 14 days of the processing of your payment. Partial and full refunds will be given through PayPal minus actual shipping costs. Please refer to the individual item listing for details and contact us directly if you have any questions of concerns.
Shipping and Handling
Items weighing less than 150lbs are shipped via FedEx or USPS. Items weighing in excess of 150lbs will be shipped as Freight (Freight Collect).
The Buyer is responsible for paying the actual shipping and handling costs. Please refer to each item listing for specific shipping costs.
We ask that you let us know if your address is residential or business.
If you wish for your shipment to be insured, please specify this at the time of the purchase. Otherwise shipping insurance will be purchased at the seller's discretion.
All items are packaged with care by professionals. We waive responsibility for any damage inflicted on items during shipping. If damage has occurred, please be responsible and file a claim with the carrier. We will do all we can to assist in this unlikely event.
We do not ship outside the United States so please no international purchases.
Local pickups are always welcome, and encouraged where possible.
Feedback Rating
We ask that you take the time to leave us feedback and to rate your buying experience. Your feedback allows us to improve our site and helps us to better serve our valued customers. A positive feedback is much appreciated and will ensure one in return. If you feel that we deserve a negative feedback, please contact us before you take this action so that we may assist you in resolving the matter fairly.
By placing your order request, you are agreeing to our terms of service. It is our goal to make every transaction a positive experience for both parties involved. We try our best to provide an accurate and unbiased description for each item listed to give you a better understanding of what you will receive, so please read carefully and pay close attention to all photos as they will include the full contents of the item. Please read each item listing thoroughly before placing an order request.
By placing an order request on an item, you are agreeing to purchase that item, and that you understand and accept all terms that apply. Any questions that may have an effect on your decision to follow through with any purchase should and must be addressed before payment is processed.
Because we deal with such a wide variety of merchandise, we sometimes rely on information from a trusted and qualified third party to help describe the item with the most detail and accuracy. We are not responsible for false information derived thereof. If a mistake has been made, please contact us before making your purchase.
All sales are final. However, if for any reason you are not satisfied with your purchase, you should first let us know the circumstances. Your claim will be honestly evaluated within 48 hours of when it is received, at which time we will inform you of its acceptance or denial and in some cases alternative options may be presented to settle any dispute. Claims will be evaluated case by case and whose outcome will be at the sole discretion of the seller.
If an item is listed as is, the buyer accepts the commitment to purchase and receive the item as such and under no circumstances will the item be eligible for return or refund. Items that are eligible for return will be listed as such. Please refer to individual item listings for details.
If you have any questions on any of our items please feel free to contact us. Have a great day and happy shopping.
---