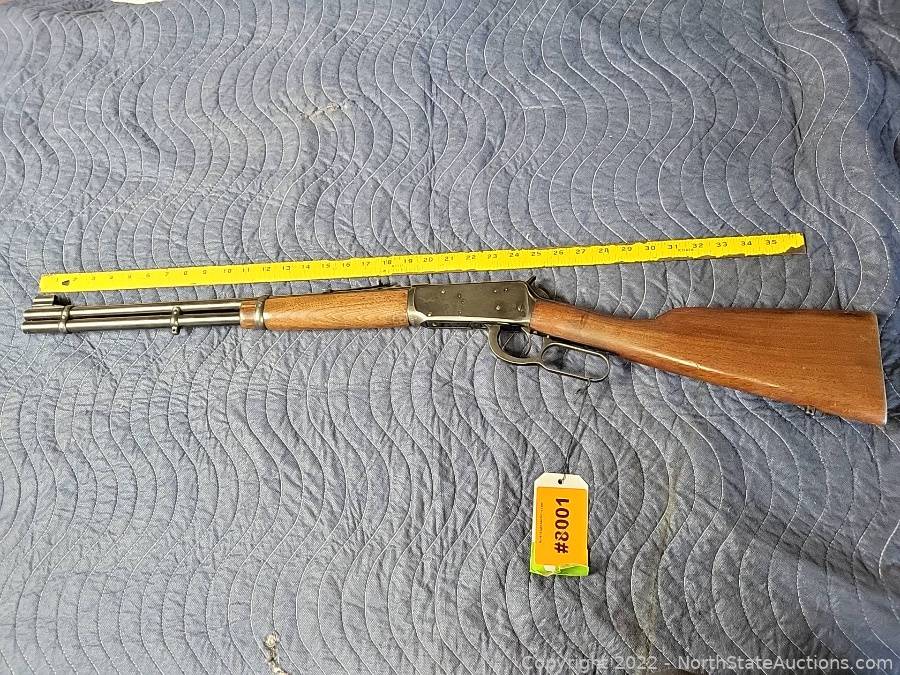 Lot #8001:
Winchester 94
Bidding is

closed

.
High Bid:
$1,060.00
NA
Bidding Ended:
Wed, Dec 7 10:06:27 am PT
High Bidder:
mdowen
Bid Increment:
$50.00
Starting Bid:
$5.00
Item Location:

4514 Pacific Heights Rd.

,

Oroville

,

CA

95965

Item has been viewed 603 times.

Winchester 94
Model 94
30-30 cal
19in barrel
Lever action
Do Not bid unless you can pass a DOJ background check, you have an FSC and you have the funds to pay the invoice by the due date stated!
All guns will be legally transferred through our local FFL licensed dealer. There will be additional fees due to the FFL dealer that will NOT be on your Northstate Auctions Invoice.
FFL licensed dealer will be onsite during the payment time so you can fill out your paper work in person. You need 2 forms of ID for proof CA residency (ID & Auto registration or Utility bill works) & Firearm Safety Certificate (or hunting license for Long Guns). Firearms will be stored until the 10 day waiting period, you will pickup at the FFL Dealers place of business at 4514 Pacific Heights Rd. Oroville CA 95965.
You must be 21 to purchase a hand gun and 18 to purchase a long gun. There are no exceptions. Failing to read and understand the Terms and Conditions does not release you from the obligation of paying for your bill.
Please do your own research and understand the laws (State and Federal) for purchasing a firearm. Let's set us all up for a successful sale.
For additional fees your firearms can be shipped to another FFL.
---
| | | |
| --- | --- | --- |
| Bid Date | Bid Amount | Bidder |
| Dec 7, 2022 - 10:04:27 AM | $1,060.00 | imdowen |
| Dec 7, 2022 - 10:03:24 AM | $1,010.00 | ifstick |
| Dec 7, 2022 - 10:02:46 AM | $1,000.00 | imdowen |
| Dec 7, 2022 - 10:02:46 AM | $990.00 | ifstick |
| Dec 7, 2022 - 10:02:15 AM | $960.00 | ifstick |
| Dec 7, 2022 - 10:01:44 AM | $950.00 | imdowen |
| Dec 7, 2022 - 10:01:45 AM | $950.00 | ifstick |
| Dec 7, 2022 - 10:01:26 AM | $930.00 | imdowen |
| Dec 7, 2022 - 10:01:26 AM | $920.00 | ifstick |
| Dec 7, 2022 - 10:01:18 AM | $910.00 | ifstick |
| Dec 7, 2022 - 10:01:18 AM | $900.00 | imdowen |
| Dec 7, 2022 - 10:00:51 AM | $890.00 | imdowen |
| Dec 7, 2022 - 10:00:51 AM | $880.00 | ifstick |
| Dec 7, 2022 - 10:00:42 AM | $860.00 | ifstick |
| Dec 7, 2022 - 10:00:42 AM | $850.00 | imdowen |
| Dec 7, 2022 - 9:49:59 AM | $810.00 | imdowen |
| Dec 7, 2022 - 9:49:44 AM | $800.00 | ifstick |
| Dec 7, 2022 - 9:49:45 AM | $800.00 | imdowen |
| Dec 7, 2022 - 9:48:10 AM | $690.00 | ifstick |
| Dec 7, 2022 - 9:48:10 AM | $680.00 | imdowen |
| Dec 7, 2022 - 8:17:33 AM | $660.00 | imdowen |
| Dec 7, 2022 - 8:16:39 AM | $650.00 | ifstick |
| Dec 7, 2022 - 8:16:40 AM | $650.00 | imdowen |
| Dec 7, 2022 - 7:10:33 AM | $610.00 | ifstick |
| Dec 7, 2022 - 7:10:32 AM | $600.00 | imdowen |
| Dec 6, 2022 - 12:31:35 PM | $580.00 | imdowen |
| Dec 6, 2022 - 12:31:35 PM | $570.00 | iClayton.patterson |
| Dec 6, 2022 - 9:47:47 AM | $560.00 | iClayton.patterson |
| Dec 6, 2022 - 9:47:45 AM | $550.00 | imdowen |
| Dec 6, 2022 - 9:47:45 AM | $540.00 | iClayton.patterson |
| Dec 6, 2022 - 9:47:41 AM | $530.00 | imdowen |
| Dec 6, 2022 - 9:47:41 AM | $520.00 | iClayton.patterson |
| Dec 5, 2022 - 1:07:39 PM | $510.00 | imdowen |
| Dec 5, 2022 - 1:07:39 PM | $500.00 | iDevin |
| Dec 4, 2022 - 5:55:19 PM | $461.00 | iDevin |
| Dec 4, 2022 - 5:55:19 PM | $451.00 | ibuckoff5 |
| Dec 4, 2022 - 5:55:09 PM | $440.00 | ibuckoff5 |
| Dec 4, 2022 - 5:55:09 PM | $430.00 | iDevin |
| Dec 4, 2022 - 5:55:02 PM | $420.00 | ibuckoff5 |
| Dec 4, 2022 - 5:55:02 PM | $410.00 | iDevin |
| Dec 3, 2022 - 10:36:32 AM | $400.00 | ibuckoff5 |
| Dec 3, 2022 - 10:36:33 AM | $400.00 | icschwartz |
| Dec 3, 2022 - 8:26:53 AM | $335.00 | ibuckoff5 |
| Dec 3, 2022 - 8:26:53 AM | $325.00 | ijohn52 |
| Dec 3, 2022 - 7:28:06 AM | $105.00 | ijohn52 |
| Dec 3, 2022 - 7:28:06 AM | $100.00 | iBmyers |
| Dec 3, 2022 - 12:00:26 AM | $5.00 | iBmyers |