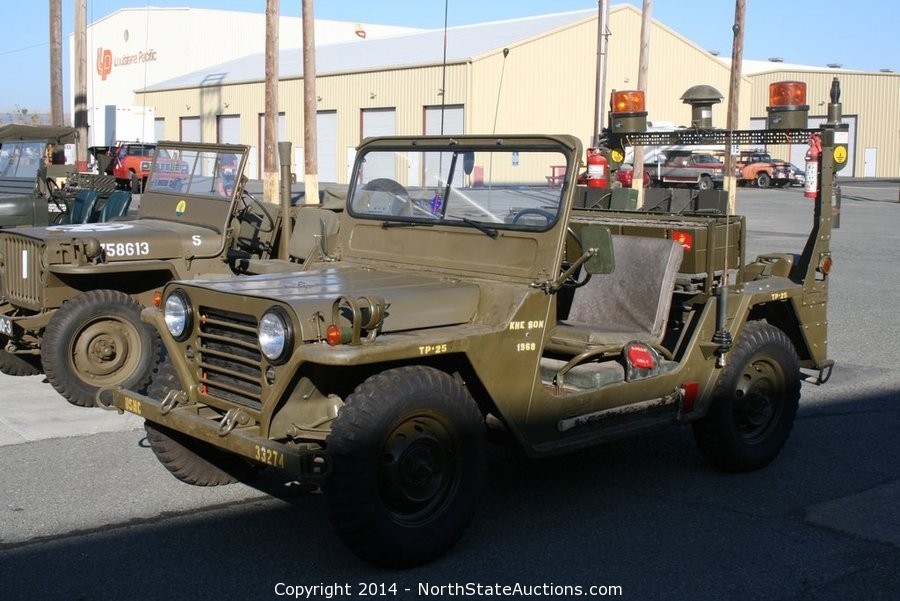 Item #0001B:
1968 AMC M151A1
Sold
Item Price:
$12,500.00
Item has been viewed 17,229 times.

1968 AMC M151A1
4 cyl gas engine
4 speed manual transmission
Hi/low transfer case. 
4X4
This unit has not been cut, or demilitarized.   
COLLECTOR'S NOTE:
WITH MOST OF THE M151 SERIES VEHICLES BEING SOLD OVERSEAS AND MOST OF THOSE LEFT IN THE UNITED STATES DEMILLED.  THIS "UNCUT" BEAUTIFUL EXAMPLE HAS SURVIVED AS A SPECIAL RESTORATION OF A VIETNAM ERA "MUTT", THIS MULTIPLE UTILITY TACTICAL TRUCK. WAS FINISHED IN BASE CAMP LIVERY AND INCLUDES TWO EARLY VIETNAM TACTICAL VRC-I0 RADIO SETS AND ANTENNAS.
More MUTT info:
http://www.surplusjeep.com/M151/M151_%20Lead_%20Page.htm
---