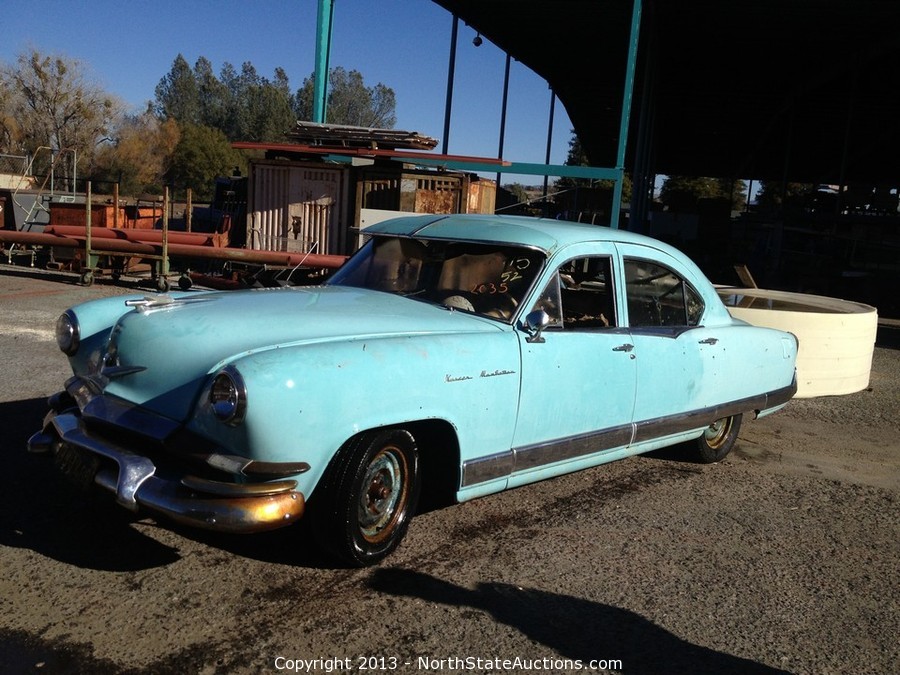 Item #0014:
1954 Kaiser Manhattan, Sedan, 4-Door, 6-Cyl

1954 Kaiser Manhattan, Sedan, 4-Door, 6-Cyl
Up for sale is a 1954 Kaiser Manhattan, Sedan with 4-doors and a 6-Cyl. Take a look at the photos and please call us at (530) 534-9956 to schedule an appointment to take a look at it or reply via email. Thank you.


The history of Kaiser:
In 1951, Frazer debuted a new design that would continue until the
company's end of U.S. passenger car production in 1955. Designed by
Howard "Dutch" Darrin, the cars were longer, lower, and swoopier. The
top-of-the-line Manhattan cost just over $3,000, and fewer than 300 were
produced in all.

The Frazer Manhattan was available as either a four-door sedan or a
four-door convertible and carried a look that was not shared with sister
Kaiser models. The sedan resembled a convertible with the top up as it had
minor creases at the B- and C-pillars, meant to evoke convertible top bows.
A 226-cid, 115-hp, six-cylinder engine was used, and the motor was mated to
a Hydra-Matic transmission for the first time.

For 1952, the Manhattan name was shifted to the Kaiser nameplate, and the
car received a markedly different exterior that was consistent with the rest of
the brand. Most notably, a pronounced dip adorned the center of the
windshield and rear glass, and the grille had a simple top bar that curved
around the front fenders. For this model year, body style choices were
greatly revised, as the convertible model was removed, a club coupe and a
two-door sedan were added, and Traveler configurations could be ordered.
List prices dropped considerably, and production numbers were much higher.

The 1953 model year was mostly the same, though the Manhattan could be
ordered with "Bambu" interior, and body choices were limited to a two-door
club sedan, and four-door sedan, and a Traveler sedan. For 1954, Darrin
redesigned the Manhattan's grille in a new "jet air-scoop" design, supposedly
borrowed from the Buick XP-300 show car. More importantly a McCulloch
supercharger became standard on the Manhattan's old flathead six, which
boosted output to 140 hp. Even so, sales dropped to 4,325 Manhattans.
By 1955, it was all over. Only 1,231 supercharged Manhattans were built that
year, with 1,021 being sent to Argentina. The tooling was sent down to
Buenos Aires and the Kaiser Manhattans continued to be sold in South
America until 1962 as the Carabella.

The Kaiser-Frazer Manhattan is a rare and eye-catching car today. When
new they were fairly luxurious, and the supercharged cars in particular
provided adequate power. The four-door convertible is an interesting body
style, and the 1951 models are particularly handsome. The 1955 Manhattans
sold in the U.S. are also quite collectible due to their rarity and performance.
Locating a Manhattan in top condition is possibly the hardest part of owning
one.
---